Welcome to the topic Why Your Office Could Use a Great Deep Clean.
If you want to keep your office as healthy and fresh as possible, it will occasionally need a deeper clean. A thorough office clean is professionally called an office deep clean. However, what exactly is deep office cleaning, and how frequently do you require it?
A top commercial cleaning company in Michigan provides you with more extensive cleaning services in addition to their standard offerings, ensuring that your workplace is completely safe and healthy. Discover what this kind of service comprises by reading on! An office space cleaning is more extensive and time-consuming than standard commercial deep cleaning services. The service typically contains intricate and complex cleaning activities that are infrequently included in regular commercial disinfection, such as thorough cleaning of door handles, light switches, and other hardware. The staff performing commercial deep cleaning makes sure to vacuum the carpet thoroughly using a vacuum that has a HEPA filter, vacuum and clean the blinds, windowsills, and curtains, and clean the interior and the appliances' backs. The commercial day clean also involves cleanings, such as:
• Thoroughly disinfecting the bathroom's toilets and other surfaces.
• Dusting vents, ledges, and baseboards.
• Using efficient cleaning solutions to disinfect all kitchen surfaces.
• Cleaning keyboards, monitors, and desktops.
I.M.K. Cleaning Services is a one-stop solution to all your cleaning requirements.
As a business owner, you know how crucial it is to maintain a safe and healthy office and the advantages of keeping the area clean. But how can you tell whether your desk is sufficiently tidy?
Commercial deep cleaning services are intended to keep your office as clean as possible. Still, they do not cover some areas that could be difficult or inaccessible to clean, including under the desks or behind the refrigerator. The accumulation of dust and grime is simple if these places are neglected. Therefore, if you discover that the office has more dust than usual, it's probably time to get a deep cleaning done by professionals.
I.M.K. Cleaning Services provide spotless cleaning after thoroughly inspecting an office space. Our team ensures you can always see the satisfaction on your face through the reflection of cleaned surfaces.
Office space cleaning is typically advised every six to twelve months to keep your business space spotless. Of course, the precise frequency will depend on your business's kind and personnel count. Additionally, many business owners reserve thorough cleaning services from a top commercial cleaning company for special occasions like holding an office party or for significant business partner visits.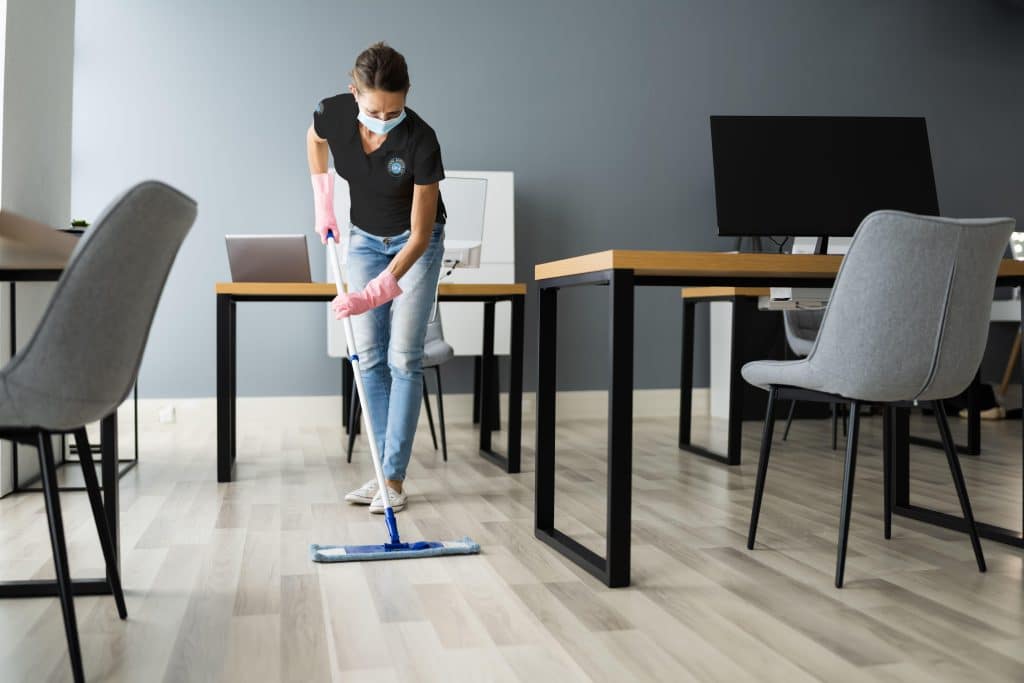 The following reasons are why you should consider a regular office deep clean.
1. Safer and Healthier Workers
One of the simplest ways to prevent the spread of viruses or bugs throughout the workplace is to remove concealed germs and bacteria. Even though your office may appear clean, some office supplies are 400 times dirtier than the typical toilet seat. The health of your employees may significantly improve after thoroughly cleaning hard surfaces.
2. More Productive Workers
Naturally, a tidy workplace minimizes sick days among workers. For instance, the cleaner office reported a 12.5% drop in sick days used, according to a University of Norway study that looked at the relationship between cleanliness and worker happiness. Office deep cleaning services can be purchased from I.M.K. Cleaning Services with a significant return on investment (R.O.I.).
3. Everything appears to be new.
Shiny new goods have an appealing quality. According to research, the human brain is designed to be drawn to novelty. Therefore, a comprehensive clean can offer your office a like-new facelift, even if it has been the same for more than ten years.
4. Encourages people to be cleaner
Many companies have broad rules for employees to follow when it comes to keeping their workspace clean, but when they know their employer is investing in a clean environment, expect that to be even more ingrained. This entails providing items like antibacterial wipes and keyboard cleaners, but they are modest expenses that reap advantages for morale across the entire firm.
Anytime you realize that routine commercial disinfection is no longer effective or if your business is holding a significant event, you should schedule office deep cleaning services.
Commercial day cleaning services usually are advised every six to twelve months to keep your office space immaculate. Of course, the exact frequency will depend on the nature of your firm and the number of employees. Numerous business owners also schedule intensive cleaning services for special events like hosting an office party or welcoming essential business partners.
You should plan office deep cleaning services if you realize that ordinary cleaning is no longer efficient or if your company is hosting an important event.
Don't forget to watch the video!!
Have any questions regarding the topic Why Your Office Could Use a Great Deep Clean? Feel free to comment below.
Also Read: Why Your Office Could Use a Great Deep Clean