Janitorial cleaning services are small, recurring cleaning tasks necessary to keep a space functional and clean. Janitorial services are typically required in office buildings and other corporations. Cleanliness plays a key role in how businesses perform, and janitorial services are there to help.
Are you interested in what janitorial cleaning has to offer? Are you unsure how it differs from other services?
Keep reading to find out what janitorial cleaning is and what it can offer!
What Does Janitorial Cleaning Mean
Janitorial cleaning is a specific kind of cleaning service, centered around regular cleaning tasks that are typically done in an office setting. Janitorial cleaners are hired to handle a list of tasks to keep up the cleanliness of the space. These tasks are customized to fit their employer's needs.
They come on a frequent schedule, varying from daily, weekly, to biweekly. It is up to those who hire janitorial cleaning services to determine how often and when they need the services performed. They will also need to know what cleaning tasks they will need specifically.
What Does Janitorial Cleaning Offer
The most common cleaning services that janitorial cleaners offer are everyday cleaning tasks, like vacuuming or taking out the trash. Janitorial cleaners will work with the company that has hired them to customize their cleaning tasks to the company's needs.
Here are some examples of other tasks that janitorial cleaning can include:
Cleaning the restrooms
Kitchen and breakroom cleaning
Mopping and sweeping of tile and hardwood floors
Vacuuming carpets
General dusting
Taking out the trash and emptying bins
Wiping down desks, chairs, and tables
Restocking toiletries
Changing light bulbs
Cleaning spills
Every space has different needs, dependent on different factors like how large the space is and how many people share the space. For large spaces, more tasks may be involved and they may need more frequent cleanings.
Whatever the size and need of your commercial space, janitorial cleaners offer a flexible approach to cleaning to best keep your space functional and well-maintained.
Where Do Janitorial Cleaners Offer Their Services
Janitorial cleaners are often hired for office settings but can be used in other places as well, from retail spaces to schools. Janitorial cleaning can be a valuable asset to many different locations and teams by helping them keep their workspaces running as smoothly as possible.
Here is a list of places where janitorial cleaners offer their services:
Retail spaces
Banks and financial institutions
Gyms and fitness centers
Churches and places of worship
Restaurants
Healthcare and medical facilities
Industrial and manufacturing facilities
Auto dealerships
Business offices
Schools and universities
What Makes Janitorial Cleaning Different
Janitorial cleaning is different from other types of cleaning services, such as commercial cleaning or industrial cleaning, because of the scope of janitorial tasks. Janitorial cleaning tasks are generally small and recurrent, focusing on the general tidiness and functionality of a space.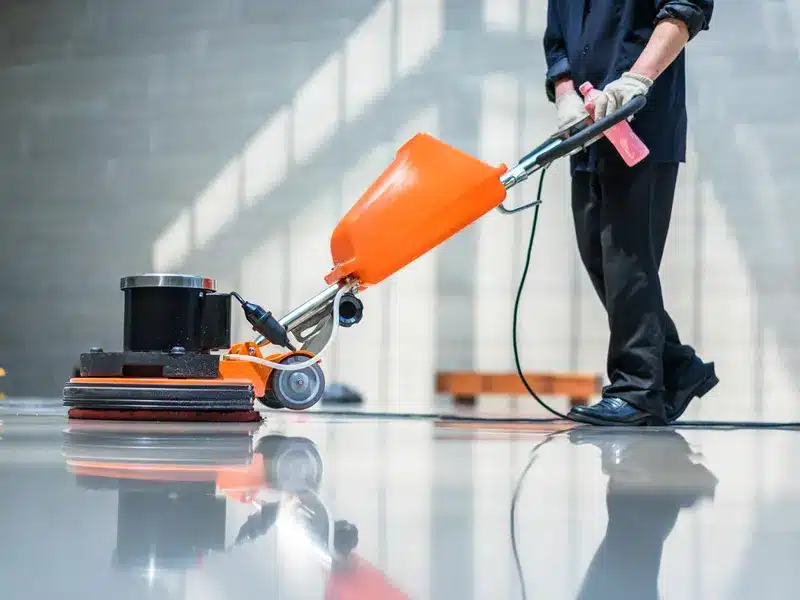 Janitorial cleaning is also done more often than other kinds of cleaning services, due to the repeating nature of the necessary tasks. A breakroom will need to be cleaned more often than an exterior window, and a rug will need to be vacuumed more often than it will need to go under an extraction.
Janitorial Cleaning vs. Commercial Cleaning
Commercial cleaning is a more specialized kind of cleaning service and provides deeper cleaning with services like carpet extraction and specialized window cleaning. This requires a different training than janitorial as well and is generally hired less for jobs that occur less frequently.
Janitorial Cleaning vs. Industrial Cleaning
Industrial cleaning generally services are provided to factories and manufacturers only and involve a much more specialized and deeper cleaning of equipment parts and machines. This requires specialized training and techniques and specific cleaning products.
What Are the Benefits of Hiring a Janitorial Cleaning Service
Hiring a janitorial cleaning service offers you the benefits of taking care of your space, your employees, and your reputation. Janitorial cleaners take care of the cleanliness of your space so you don't have to, offering you one less thing to worry about.
Whether your workspace is an office or a school, no one wants to work in a cluttered and unhealthy space. Dirty and unsanitary environments can lead to decreased productivity and even more sick days, costing your business more money in the long run.
A reputable janitorial cleaning service will have its own cleaning supplies and equipment, relieving you of the hassle of providing your own supplies. They also offer the benefit of tailoring their services to fit your needs.
Conclusion
Janitorial cleaning services include the general care of a commercial space and revolve around a list of smaller tasks and responsibilities than other cleaning services. Knowing what is included with janitorial services can help you make the best decision for you and your business.
For more information or a free estimate from a trusted and professional cleaning company, call IMKLLC at (248)965-9726.
Frequently Asked Questions
How frequently should a commercial space like an office be cleaned?
The answer to how often a space should be cleaned relies on if visitors frequent the space often, the size of the space, and how many employees share the space. Generally speaking, spaces like offices should be deep cleaned around twice a year and moderately cleaned daily to weekly.
Do janitorial workers handle hazardous chemicals?
Some cleaning products can carry hazards, depending on the item and its purpose. Cleaning products generally carry chemicals that should not be ingested by humans. To keep themselves safe, janitorial workers should follow strict procedures around their cleaning products.
How frequently should a commercial space's bathrooms be cleaned?
Again, how often a space needs cleaning is reliant on different factors like size and frequency of use, but since bathrooms can be a hotbed for germs and bacteria it is generally recommended for them to be cleaned once daily.