The difference between janitorial cleaning and commercial cleaning service is measured by the tasks they provide, for example, janitorial tasks are much smaller and more regular than the larger, more intensive tasks that commercial cleaning tasks. These services are useful in their own distinct way. 
Are you a business owner looking for more information on the different kinds of cleaning services available? Are you unsure what services janitorial cleaning and commercial cleaning offers?
Keep reading to learn all about these two cleaning services, their differences, when to hire each of the services, and the ways they offer value to companies far and wide.
What Is A Janitorial Cleaning Service
A janitorial cleaning service provides regular cleaning tasks that are typically done in an office, retail, medical, and other professional settings. Janitorial cleaners manage an ongoing list of cleaning tasks, created to help upkeep the tidiness of a space.
Janitorial cleaners perform many cleaning tasks, and these tasks are often customized to fit their employer's needs. Every space may have differing cleanliness needs, but janitorial cleaners generally perform similar ritual tasks.
Here are some examples of janitorial cleaning tasks:
Restroom cleaning
Cleaning of kitchens and break rooms
Mopping, sweeping, and general care of hardwood floors
Vacuuming carpets
Dusting
Emptying trash bins and taking out the trash
Wiping down tables, chairs, and desks
Regular restocking of toiletries
What Is A Commercial Cleaning Service
A commercial cleaning service is the cleaning of non-domestic spaces. This includes gyms, offices, schools, restaurants, retail, and other similar businesses. Commercial cleaners offer these companies more in-depth methods and tools for cleaning, which can often require specialized training.
Commercial cleaning companies also may provide more specialized cleanings, along with larger-scale cleaning jobs. Their list of cleaning tasks may vary from company to company, but they generally have a similar outline of services they offer.
Here are some examples of commercial cleaning services:
Stripping and waxing hardwood floors
Walls and suspended ceiling cleaning
Interior and exterior window cleaning
Carpet extraction
Deep sanitation
External building cleaning
Power washing
Janitorial Cleaning Vs. Commercial Cleaning Services
Janitorial cleaning and commercial cleaning services are markedly different due to the size and type of their cleaning tasks. While both types of services can be hired commercially and clean similar spaces, they do not offer the same type of cleaning.
These services are also different because of how frequently these services are performed. Janitorial cleaners are generally hired more often, such as daily, weekly, or bi-weekly, whereas commercial cleaners are hired less often. How often a space needs a commercial cleaning depends on foot traffic.
When To Hire A Janitorial Cleaning Service
You should hire a janitorial cleaning service when you want more routine, regular cleanings. This service is perfect for companies that require more habitual cleaning tasks. Janitorial cleaners can provide a clutter-free environment that is an asset to any workplace.
Janitorial cleaners help keep your business running smoothly by overseeing any daily cleaning tasks, giving you and your employees the ability to focus on your other more profitable tasks. They can provide support and care for your workplace that is irreplaceable.
When To Hire A Commercial Cleaning Service
Hiring a commercial cleaning service is a smart move for those who need a more deep, specialized cleaning for their commercial space. If you own a business that has a lot of foot traffic, regular commercial cleaning appointments can help keep your space looking close to new for as long as possible.
If you need the exterior of your building cleaned, or if your carpets or floors are beginning to show their wear, hiring a commercial cleaning service can help provide you with a fresh start. Keeping your commercial space clean is always worth the cost.
Why Hire A Professional Cleaning Company
Some of the reasons to hire a professional cleaning company include their efficiency, their specialized training and knowledge, and longer-lasting results. A trusted professional cleaning company is a valuable investment in the care and maintenance of your commercial space.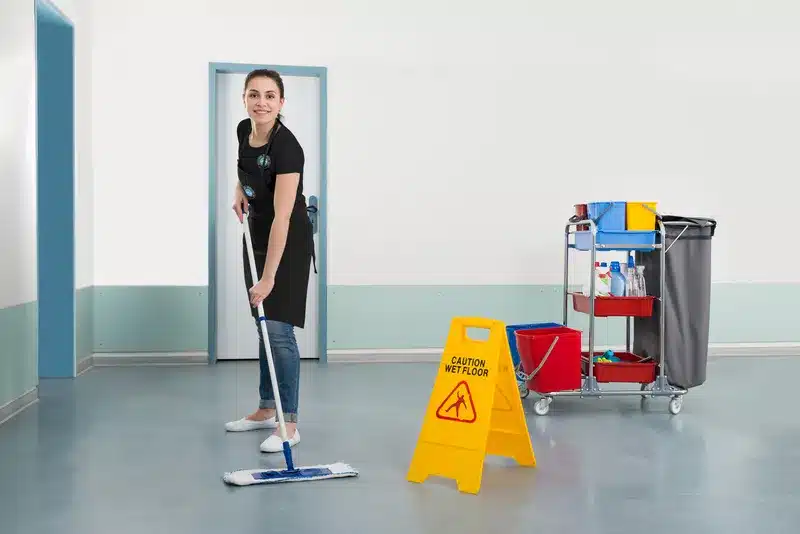 Professional cleaning companies have the right tools, cleaning products, and labor to clean a commercial space as efficiently as possible. They have been specifically trained in different cleaning techniques and methods and are specialists in their fields.
Cleaning results are achieved through professional cleaning companies and typically last longer than a general cleaning performed by an in-house employee. Choosing the right cleaner matters, so weigh your options carefully and look around for your best fit.
Additional Benefits To Hiring A Professional Cleaning Company
Additional benefits to hiring a cleaning company, such as time and monetary savings and better employee and customer health. While the immediate advantages of professional cleaning are hard to miss, such as a clutter-free space, it's important to understand the lesser-known advantages.
Time and monetary savings. Professional cleaners can take care of your space, saving you a lot of time that would have otherwise been spent trying to keep your place clean and fresh. Money will also be saved over time due to lessening sick days and increased efficiency.
Better employee and customer health. Professional cleaning can help decrease the spread of germs and bacteria, increase air quality, and can even affect the likelihood of an injury. Dirty floors can cause serious accidents, resulting in costly injuries for employees and customers.
Conclusion
Understanding what makes janitorial cleaning and commercial cleaning services different from each other can help you make the best decisions for the needs of your company. These services are different due to the scope of their tasks, and each offers its own benefits to a company.
For more information on janitorial cleaning services, commercial cleaning services, and other specific cleaning services, call IMK LLC at (248)965-9726.