Hiring a commercial cleaning service can provide many benefits such as long-term time and monetary savings, improved employee and customer health, an inviting space, and improved productivity. Commercial cleaners provide a deeper clean that will keep your business looking newer for longer.
Have you been thinking about hiring a commercial cleaning service and want to know the benefits? Are you unsure what commercial cleaning has to offer?
Keep reading to learn all the ways hiring a commercial cleaning service is the right choice for your business.
Why a Commercial Cleaning Service Is Important for the Workplace
Commercial cleaning is important for workplaces because a regular accumulation of dust, debris, and clutter can harm your workers' productivity and health, and your profits in the long run. Keeping your business clean will provide greater returns to you in the short term and long term.
The Benefits of Hiring a Commercial Cleaning Service
The benefits of hiring a commercial cleaning service include long-term time and monetary savings, improved employee and customer health, an inviting space, and improved productivity. These attractive advantages make commercial cleaning a great addition to your commercial space care.
Here are the benefits explained in greater detail:
Time and Monetary Savings
You save yourself time and money by choosing to hire a commercial cleaning service because of the increased opportunities for your employees to focus on other work-related tasks, and lessen sick days. With reliable cleaners, you will not have to worry about cleaning tasks at all.
An employee's time is best spent in the pursuit of profits, not spent worrying over the upkeep of the space. A trustworthy commercial cleaner can take care of your space, saving you a lot of time that would have otherwise been spent trying to keep your place clean and fresh.
Improved Employee and Customer Health
The cleaner a space is, the less likely germs and bacteria will spread, or even the less likely an injury will happen. Greasy, dirty floors can cause serious accidents, resulting in costly injuries for employees and customers, and for businesses.
By hiring a commercial cleaning company, you can expect your space to remain sanitized and fresh. By regular sanitization and removal of waste, air quality in the space will improve, keeping you and your workers in the best environment for their health.
Inviting Space
A large draw to most retail businesses is their level of cleanliness, and commercial cleaners can provide that for you. Dirty, dusty, and dingy restaurants, retail spaces, or other businesses will quickly gather a bad reputation for their level of cleanliness.
Keeping a clean and inviting space is an integral part of owning a reputable commercial space, and hiring a commercial cleaner can easily provide that essential factor for your business.
Improved Productivity
People are more comfortable and less distracted in cleaner, organized environments, and so keeping your space clean with the help of commercial cleaning can increase productivity. In contrast, dirty environments are more likely to keep your employees distracted and less satisfied with their workplaces.
What Are Commercial Cleaning Services?
Commercial cleaning is the cleaning of non-domestic spaces. These spaces include and are not limited to gyms, offices, schools, restaurants, retail and other similar businesses. These spaces are cleaned commercially through more in-depth methods and tools, which often require specialized training.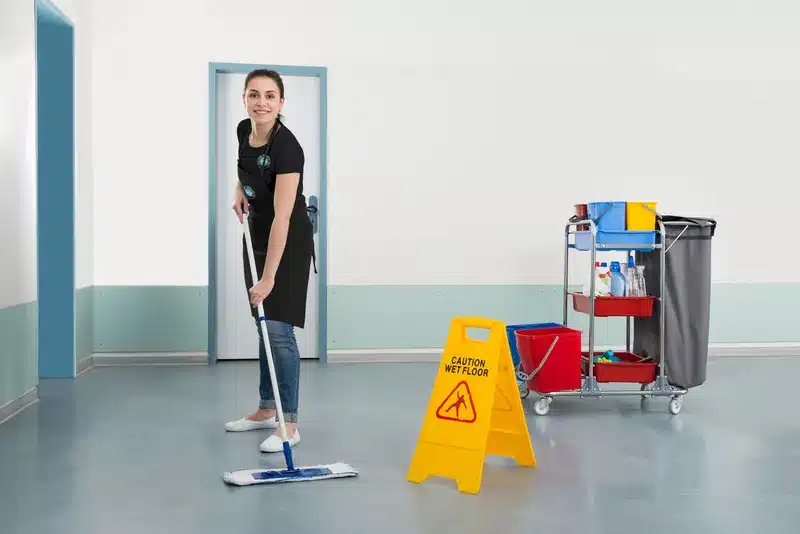 Companies that offer commercial cleaning can also provide more specialized cleanings, like carpet extractions, tile buffing, and exterior window cleanings. Commercial cleaning is a necessary part of maintaining and caring for commercial spaces and buildings.
The Difference Between Commercial Cleaning and Office Cleaning
The difference between commercial cleaning and general office cleaning is the level of specialization and in-depth cleaning a commercial cleaning company may have. A general office cleaning may perform standard decluttering and cleaning tasks, but not go much further in depth.
Commercial cleaners have access to a wide variety of tools and cleaning products that have been created specifically for these jobs, providing the space with a much deeper, more efficient clean.
What Do Commercial Cleaning Services Have to Offer?
Commercial cleaning companies offer deep internal cleaning, sanitization, and more general and routine cleanings as well. Commercial cleaners can offer a more hygienic and organized space for customers and workers alike.
They offer many different specific types of services, which offers a more custom fit for whatever a business may need. Here's a list below of some of their services:
Floor cleaning. Commercial cleaners can provide both general and deep, specialized cleaning with floors. From buffing tile and cleaning grout to performing carpet extractions, commercial cleaners have the tools and training to do it all.
Bathroom and kitchen cleaning. These rooms generally have higher traffic and a higher need for deep cleaning and sanitization. Commercial cleaners can clean kitchen appliances, and provide a deeper clean for restrooms.
Deep sanitation. Sanitation plays a key role in keeping your space and workforce healthy. Commercial cleaners have special products to provide a clean and sanitary space, which is especially needed in certain businesses like healthcare facilities.
Window cleaning. Exterior and interior windows are both taken care of by commercial cleaners, who have the specific tools, unique cleaning solutions, and specialized training needed for the job.
External cleaning. Many commercial cleaning companies have access to tools like pressure washers, which are a handy solution to most external cleaning problems. Pressure washing can clean brick, sidewalk, building exteriors, and more.
Conclusion
Hiring a commercial cleaner is a wise choice for those looking to provide an inviting, safe, and clean environment for their workers, customers, and guests. Learning all the different benefits these services can provide illustrates the great advantage that commercial cleaners can give a business.
For more information about their different available cleaning services and a free estimate, call IMK LLC at (248) 965-9726.