Welcome to the topic 5 Reasons To Spring Clean Your Workplace Professionally.
The glorious spring season is finally here and exciting productivity is filling the air!
With the new spark of efficiency that comes with the rising sun, the gloom of winter is finally subsiding. New businesses are being born every day and mature businesses are always on the prowl for different ways to create an innovative environment within the workplace.
What if a pristine commercial cleaning service is all you need this season to boost business?
If you're new to the business world, you may be lost when it comes to knowing what to do for spring cleaning.
Fortunately, relying on trustworthy professionals to disinfect and deep clean your space will create a refreshed atmosphere. Transform your simple space into a spotless environment that welcomes high-value clients and long-term partnerships.
Keep reading to learn the 5 Reasons To Spring Clean Your Workplace Professionally.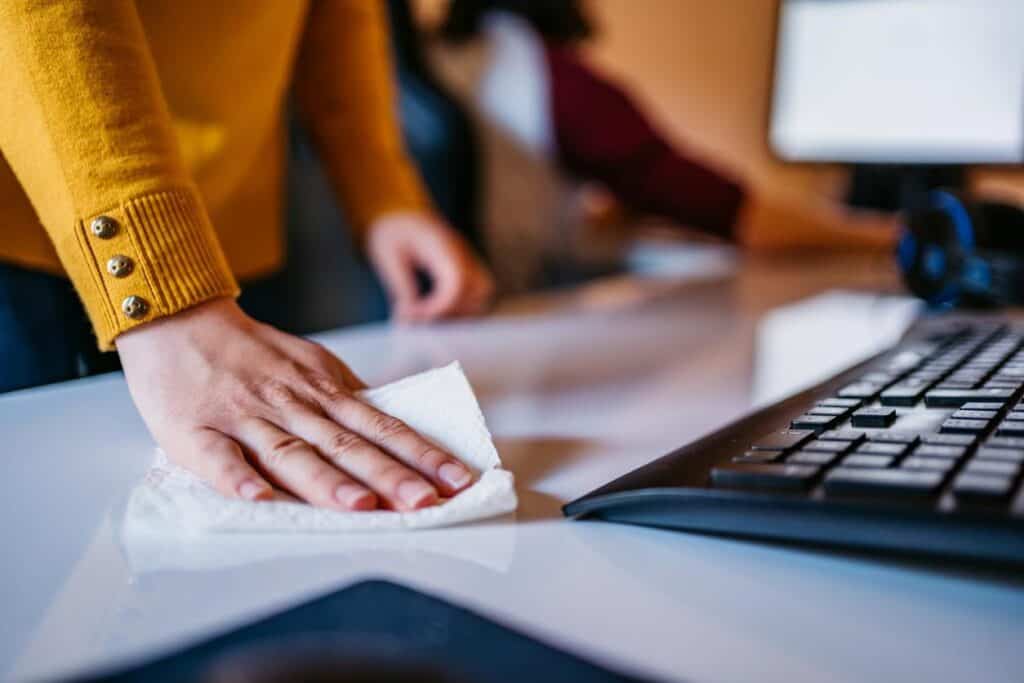 5 Reasons To Spring Clean Your Workplace Professionally
Boost Morale To Positively Affect The Mood
When was the last time you felt extremely happy in a cluttered space inside your home?
Interestingly enough, the same correlation can be made to negative morale within the workplace. When individuals feel as though they are trapped by their surroundings, destructive emotions are more likely to come to the surface.
On the other hand, when presented with a clean area full of open space and decluttered surfaces, peaceful emotions rise to the occasion. This feeling of tidiness will bring clarity to you and your valued employees.
Promote Healthy Lifestyles
Unwanted germs are always trying to make an appearance in both high and low traffic areas.
From your personal computer keyboard to the public restrooms, bacteria is always lurking around every corner. Constantly ensuring your workplace exceeds the standard for what cleanliness should look like sets a positive example for all of your employees.
Throughout the chill of the winter months, deep cleaning services tend to fall by the wayside. This means strong allergens have the opportunity to build and grow.
Employees should come to work knowing they can breathe clean air and translate the health focus of the company into their everyday lives.
Decrease Allergen Symptoms Within The Workplace
As you may already know, the spring season is allergy season!
That being said, this is the time when maintaining a clean work environment is of the utmost importance. Ensuring that you are on a schedule to receive regular commercial building cleaning services will keep your employees protected.
You most likely have at least one employee that suffers from seasonal allergies. Handling every day "housekeeping" tasks with professional day porter services will make them feel cared for and appreciated. The use of eco-friendly cleaning products is exactly what your business needs!
Reduce Stress and Improve Productivity
A cluttered and chaotic workplace invites unnecessary stress into the lives of everyone who puts effort into keeping the company running smoothly. Feeling as though your office space is always well kept offers a strong sense of accomplishment.
This is a great way to feel confident as potential clients step into your space for important meetings and high-value propositions. Additionally, a clean space invites the clarity your employees need to successfully run the business!
Increase The Consistent Revenue Stream
Creating a space in which your employees can be more productive will quickly lead to more success. Becoming an industry-leading business starts with looking the part.
As the external shine of your company starts to captivate high-value clients, your employees will continuously feel the strong motivation to operate at high levels on a daily basis. This constant clarity and creativity will scale your business to the top!
I.M.K. Cleaning Services: Trust The Professionals
Now that you understand the essential nature of maintaining a clean workspace, partner with experienced professionals for your next deep clean!
I.M.K. Cleaning Services offers a variety of different cleaning options to satisfy your needs. From monthly cleanups to daily cleaning, our highly trained staff is prepared to elevate your business. Improve your interior operations and exterior appearance with a company that cares.
Contact us today to get a personalized quote for your commercial building!
Have any questions regarding the topic 5 Reasons To Spring Clean Your Workplace Professionally? Feel free to comment below.
Also Read: How Often Should a Workplace be Disinfected? A COVID-19 Guide