Commercial cleaning costs range due to the different factors that play into the company's rates, like the size and type of the building, the equipment, and any other additional resources they may need. In order to find out more specific rates, you can call different companies to get an estimate.
Do you want to know more about the different factors that drive commercial cleaning costs? Are you looking for more information about what it could cost to clean your building or space?
Keep reading to learn more about the cost of commercial cleaning rates.
How Different Factors Affect Commercial Cleaning Costs
Factors like specialized services, building size, the length of time needed to clean, and more affect commercial cleaning costs. Each cleaning job should be tailored to the client's specific needs. Pay rates vary, so calling a company to ask for their estimated costs can give you more solid answers.
Rates also can vary from company to company. Every commercial cleaning company will have their own procedures and way of doing things, so for more thorough information it is best practice to call and ask for an estimate.
Here is a list of different factors that can affect commercial cleaning costs.
1. Specialized Services
Outside of general cleaning and sanitation, commercial cleaners also offer a list of varying speicalized services like detailed floor care. These services often require special tools and products, making these more services more costly.
Specialized services for floors include stripping and waxing floors, and carpet extractions. These services require more expensive equipment, and more specialized training for employees, which reasonably explains why these jobs would cost more than other general cleanings like sweeping or mopping. 
2. Commercial Cleaning Cost Per Square Foot
It is a generally popular choice for commercial cleaners to charge by square foot for the space being cleaned. Larger buildings with a lot more square feet and space to be cleaned will require larger teams of cleaners and more time, and so the cost will reflect those additions.
3. Commercial Cleaning Cost Per Hour
It is also not uncommon for commercial cleaners to charge by the hour for their services, so cleaning projects that require much more time than others will be more expensive. Whether it's due to the size or state of the building, some projects will require more time and help to clean than others.
4. Number Of Windows And Bathrooms
Window cleaning requires specific tools, products, and knowledge, and bathrooms require much more indepth cleaning and sanitation. Due to these facts, the greater amount of windows and bathrooms a commercial setting has will affect the price of their cleaning service.
5. Location 
Location can affect your cleaning services cost in a few ways. In one way, if the commercial cleaners have to travel longer distances to get to your building, they may charge you more due to traveling costs.
In more urban and expensive areas, it is not uncommon to see the cost of commercial cleaning at a higher rate than more rural areas. This is often due to the higher cost of living in these areas.
6. Commercial Cleaning Company Experience
The more time a commercial cleaning company has been established in the industry, the more likely the prices will reflect their expertise and reputation. Newer companies who do not have the same experience will not be as justified in charging for premium prices.
Commercial Cleaning Costs and Different Kinds of Buildings
Another factor that plays into the cost of a commercial cleaning job is the type of commercial building that will be cleaned. Different levels of detail and care will be necessary for different buildings, because of the unique features of each facility.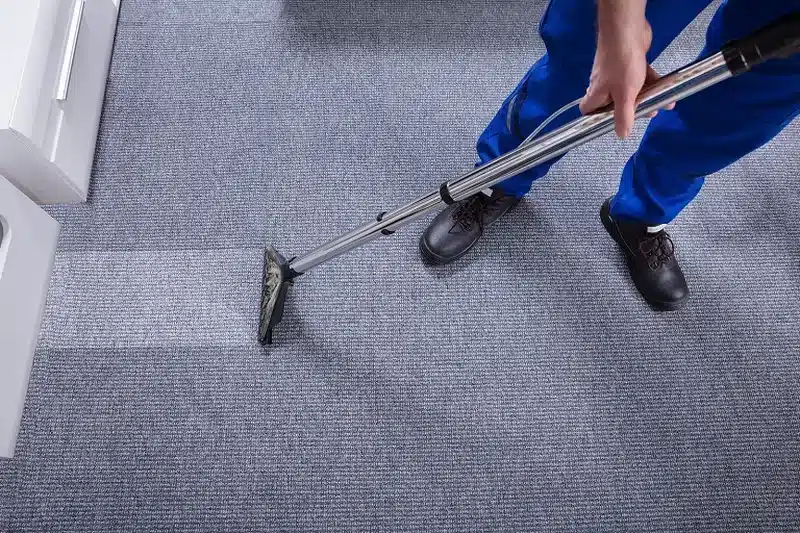 Cleanliness is important in every commercial and business setting, but some cases, like a healthcare facility, will require very particular cleanliness standards.
Here are some examples of different buildings and their specific needs:
Office buildings. Office buildings come in many different shapes and sizes, but they are generally known to have a reception area, break rooms, restrooms, and private offices. These high traffic areas will need greater attention to detail, and office windows will need washing.
Restaurants. Restaurants present a unique list of items to be cleaned, considering their long list of kitchen appliances and need for thorough sanitation for the safety of their customers. The dining area will also require in depth cleaning to help with customer satisfaction.
Retail spaces. Many retail spaces have linoleum or tile flooring, which can get dirty quickly and scuff easily. These floors require regular deep cleanings with specialized equipment and specialized training for employees, and the price of that will reflect in their cleaning costs.
Medical facilities. In the interest of preventing the spread of bacteria and keeping patients safe, medical facilities require heavy levels of sanitation and cleanliness. These buildings may have many different rooms for different purposes, and will require more detailed cleaning procedures.
Industrial buildings. Industrial and manufacturing buildings benefit greatly from deep cleanings provided by commercial cleaners, keeping their equipment and spaces clean. Specialized training is often needed for industrial cleanings, which can also influence the price of the project.
Church buildings. Cleaning churches and other places of worship is a necessary part of building an inviting atmosphere that people will want to come back to. Churches have their own list of things that will be needed to be cleaned, and the longer the list the more expensive the job.
Conclusion
Many factors affect the cost of a commercial cleaning job, like specialized services and the location and type of building. Learning the specific way they affect cost can help you understand the varying rates of the commercial cleaning industry.
If you are looking for a commercial cleaning job for your commercial space, understanding the variables of the cost can prepare you for the estimated costs. For an estimate, call IMK Cleaning Services LLC at (248)-965-9726.