Welcome to the topic What's Really in Your Breakroom? 10 Commonly Missed Areas a Professional Cleaner Never Overlooks.
Companies that provide commercial deep cleaning have qualified staff members who can implement the proper commercial disinfection procedures. Organizations like ours, the professional I.M.K. Cleaning Services in Michigan, have methodically developed techniques to guarantee a comprehensive cleaning.
We all love to have clean workplaces. Everyone appreciates the peaceful atmosphere that a neat and orderly interior and outside provides. Many regions and spots are missed to finish the cleaning as soon as possible. Unfortunately, the dirt and dust gathered in the corners and other places might create unfavorable conditions. Professional cleaners are renowned for paying attention to every crevice and providing a clean environment.
Getting rid of this problem can be accomplished by hiring a top commercial cleaning company. Even if it weren't for routine cleaning, companies like I.M.K. Cleaning Services might be tasked with deep cleaning the office.
Our professional staff is trained to have sharp eyes for any spots that are commonly missed. They are always on a hunt around:
Window and door frames
Most people frequently neglect to clean the frames around doors and windows. Dust will collect the most from the top of the structure and its corners. To access the areas, use a feather brush with a long handle. It's also advisable to vacuum remove the stains.
Under Tall Units, Cupboards, and Electronic Appliances
How frequently do you clean the area behind tall furniture, cabinets, and other similar items? Yes, rarely. Over time, the dirt accumulated in these areas migrated to the floors, making the entire area unclean. The site should be carefully vacuumed and cleaned using a broom. It is ideal if you can move the objects and mop the floor.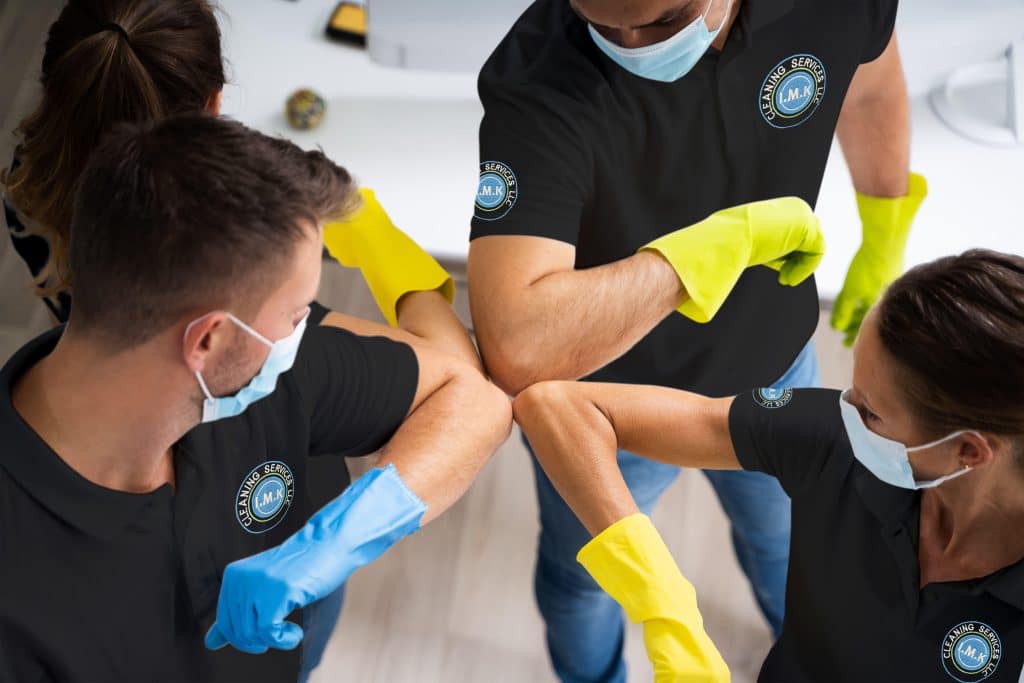 Door handles, latches, and switches
Given that you use switches, door handles, and locks daily, you might believe cleaning them is unnecessary. Hard stains might impact the appearance of the handles, buttons, and latches. Consequently, this affects the office's tidy appearance. Since it would be a germ-filled environment, proper commercial disinfection is also crucial.
Ceiling Fans
People put off cleaning the ceiling fan because it is hard to reach there. To clean the ceiling fans and other high-traffic areas, reputable cleaning services like I.M.K. Cleaning Services employ specialized equipment. The ceiling fans are reachable with a ladder. The fab leaves should not be handled roughly as this could cause damage.
Tight Space Vacuuming
It's possible that the carpet margins weren't thoroughly vacuumed. Vacuuming will be challenging if your floors are covered in cords and computer equipment. Check again even if you believe you have thoroughly cleaned the area under the computer motherboard because there is frequently dust and grime tucked away in crevices. This is why it's essential always to clean the corners.
Break Room
In the break room, we frequently neglect to clean the tables after finishing and doing our dishes. However, removing the expired food from the refrigerator and cabinets is the most challenging portion of cleaning the kitchen.
Cleaning the kitchen area more frequently than once a month is a good idea. Establish a weekly deadline for when everyone needs to eat their food or take it home regarding food storage. Otherwise, you'll have more issues than just mildew.
Office furnishings
When the office is being cleaned, the furniture is frequently ignored. We often think that the only cleaning we need to do is vacuum the area around the table, but that is insufficient. Clean the furniture and remove any trash that may be piled on it. Check again to see if wrappers or other garbage managed to get between cushions.
Additionally, you can engage expert office cleaning services, who'll make sure that your office is immaculate after they're done cleaning. It's time to enlist more assistance if you keep forgetting to clean these frequently overlooked areas that a professional cleaner never overlooks.
Contact I.M.K. Cleaning Services, L.L.C. for quality cleaning services to make your commercial office appear its best. We're here to thoroughly clean every area according to the correct cleaning standards and regulations. We're pleased to assist you with getting to all the confined spaces and wiping down every surface to make sure they sparkle like new.
Have any questions regarding the topic What's Really in Your Breakroom? 10 Commonly Missed Areas a Professional Cleaner Never Overlooks? Feel free to comment below.
Watch the video!!
Also Read: How A Clean And Organized Office Can Boost Productivity