Welcome to the Topic "The Advantages of Professional Carpet Cleaning and the Potential Financial Savings"
Take time to read this article before renting a carpet-cleaning machine to try and clean the carpets at your facility. You'll probably agree that hiring a professional cleaning service is preferable for cleaning or extracting your carpets. We're happy to inform you that hiring a carpet cleaning professional will save you time and money while providing various other benefits. We understand how vital it is to keep your expenditures under control.
Carpeting can significantly influence how visitors see your facilities. People will notice if the carpets at your facility are damaged, discoloured, or soiled, which will have a poor impression on your company.
If commercial carpeting is not treated correctly, it will show visible stress and strain, especially in high usage areas. There's no hiding something once it's damaged. Unlike residences, you cannot just place a couch or chair over the problematic areas. One cannot hide the damage; prevention is the only option.
For carpets to be protected from the impacts of liquids and abrasive soils, pre-emptive, regular, and thorough professional cleaning is necessary.
Investing in a thorough commercial carpet care plan, as offered by I.M.K. Commercial Cleaning L.L.C. (http://www.imkllc.com) in the Michigan area is the greatest method to maintain the look of your carpeting, increase its lifespan, and safeguard your investment in commercial flooring.
In order to maintain the appearance and longevity of your carpet, a thorough carpet care plan will include preventative measures in addition to regularly scheduled cleaning and upkeep services.
Below, we'll go through the crucial elements of a thorough carpet care plan.
Prevention of Soilage
Periodic Vacuuming
Routine Blot and Spill Removal
Carpet Extraction (Deep Cleaning)
Prevention of Soilage
Preventing soil from entering the structure is the greatest way to preserve your carpets.
Harsh elements like salt and gravel can shred carpet fabric, dulling its appearance and causing long-term harm.
Compared to commercial carpeting, entry matting is less expensive and easier to replace. Entry matting keeps soil from spreading past your building's entryway.
Before actually stepping on your carpeted floor, a customer should take between 8 and 10 steps on the entryway mats. The usual need for this is 15 feet of mats outside and another 15 feet within your property.
Ninety-five per cent of the soil on visitors' shoes would be removed entirely and retained by suitable entry mats.
The volume of dirt and sediment the entry mats can hold is limited. Too much dirt on the carpets prevents them from removing additional dirt from visitors' shoes and allows the soil to be tracked outside your establishment's entrance.
Mats are to be cleaned daily to avoid accumulation. Entry mats in places with a lot of foot traffic may occasionally require more than one daily vacuuming.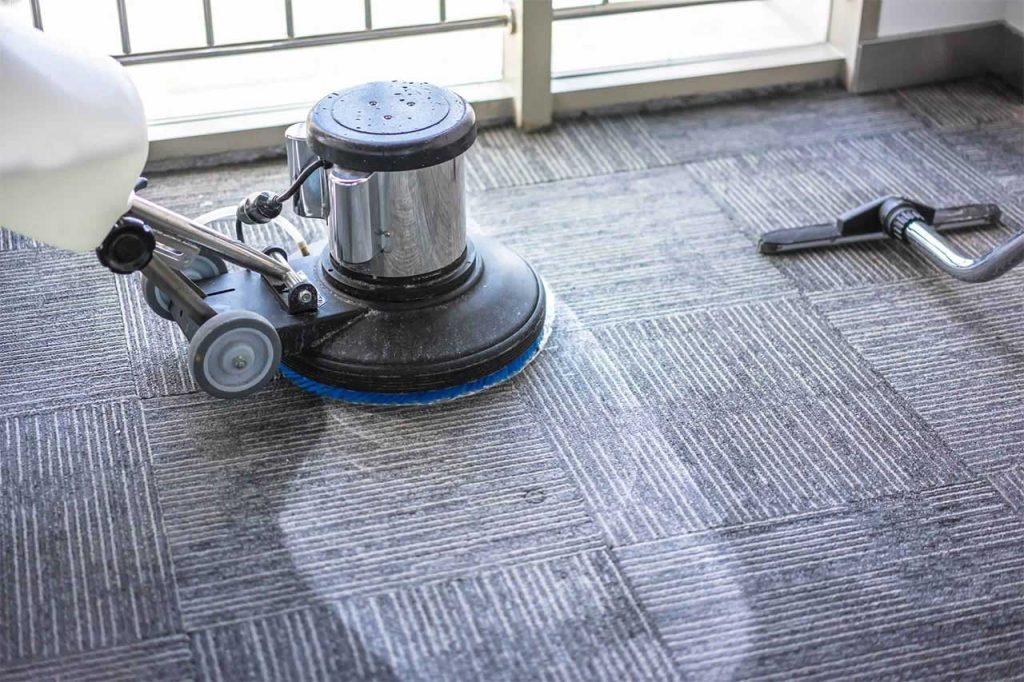 Periodic Vacuuming:
By far, the most crucial aspect of carpet upkeep is vacuuming.
The particles that managed to get past entrance mats are removed by routine vacuuming. Soil accumulation can be avoided, reducing its effect on the carpet's aesthetic.
A variety of vacuums are available that can assist in cleaning up soils from your carpet. The region, the dirt, and the traffic volume all play a role in determining the optimum vacuum. To get the best results, your prime focus should be hiring a team of professional commercial cleaners like the folks at I.M.K. Cleaning Services L.L.C. They have the latest cleaning equipment and highly trained staff to ensure that your carpeting is always in top condition.
Routine Blot and Spill Removal
Spillages (unwanted fluids and sediments) and stains can harm carpets. In order to preserve the life and aesthetics of the carpet in your facility, spillages and spots must be found and eliminated as quickly as feasible.
If spills and stains are not cleaned up right away, they will set into the carpet permanently and require carpet extraction.
Employing the right commercial carpet cleaners and using the proper spotting procedures can help you remove spills and stains from the carpet in the fastest and easiest way possible.
Carpet Extraction (Deep Cleaning)
Although carpet extraction requires the most effort and time, it will remove deeply ingrained soils. Carpet extraction is done to enhance and revive your carpet's look and remove deeply ingrained marks that carpet spotting might not be able to remove.
This procedure should be carried out at least six times yearly in overcrowded areas. One to two times a year should be sufficient in areas with moderate traffic.
Selecting a carpet extractor professional with a good repertoire can improve cleaning outcomes and increase cleaning efficiency.
A welcoming ambience created by clean carpets conveys to potential clients that your company is respectable and pays attention to the little things. Remember that you only get one chance to make a great first impression, and dirty carpets are the first thing that tells visitors to leave. Regular deep cleaning is essential if you want to encourage a better indoor atmosphere for your employees and consumers.
According to experts, frequent carpet maintenance can significantly lower your staff absence rate. It is important to note that many employee ill days occur yearly due to contagious infections, poor air quality brought on by things like mildew, and other factors. Proper commercial cleaning is the key to reducing the number of days your personnel spend at home instead of working.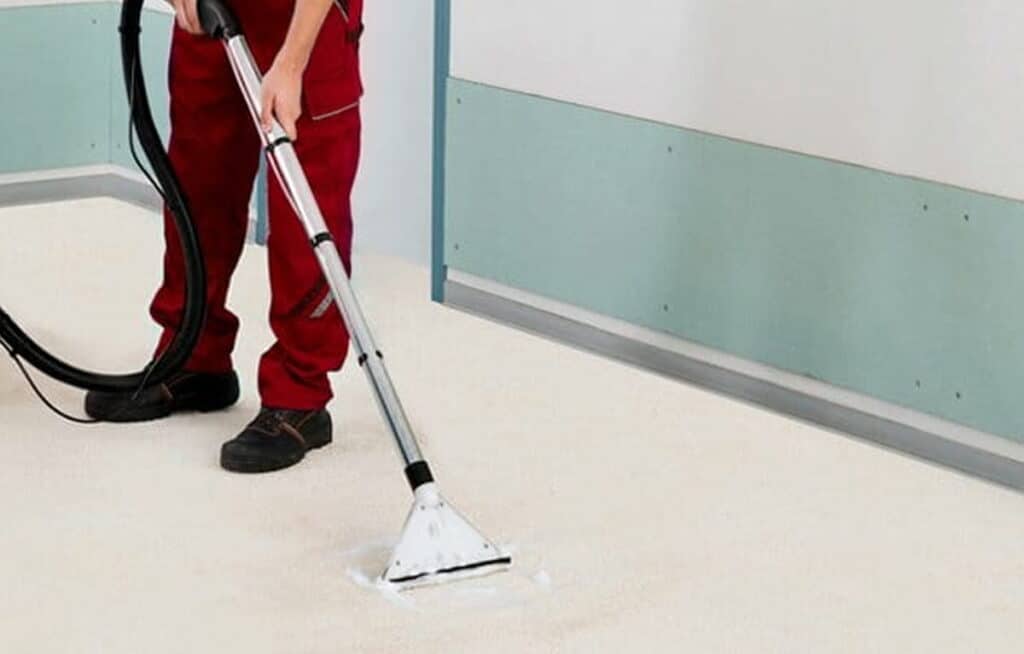 When You're Not Around, Professionals Will Do the Cleaning for You
Don't worry about paying your staff extra to wash the carpets so that nobody must go through the ordinary workweek on wet carpets. An essential benefit of hiring a professional carpet cleaner is that they operate during your downtime, allowing your business to carry on, as usual, the following day despite wet carpets—additionally, a full-service cleaning business like I.M.K. Commercial Cleaning L.L.C. may hasten the drying process by using turbo dryers to dry the floors entirely before your day starts.
And finally, here is how you can potentially save money by hiring professional carpet extractors and cleaning services to maintain your facility:
Regular cleaning not only protects the health of everyone in the building and keeps your floors looking beautiful, but it also saves you money. Two of the primary explanations for how economical it is to invest in commercial service are as follows:
Rugs endure longer
fewer sick days for employees
Remember that by outsourcing your cleaning requirements, you can concentrate on expanding your company. The advantage of having spotlessly clean carpets is that you may welcome guests into your office without fearing that they'll presume you can't afford the rent.
If you are in the Michigan area, contact the folks at www.imkllc.com to get the best possible professional cleaning services for your facility.
Have any questions regarding the topic "The Advantages of Professional Carpet Cleaning and the Potential Financial Savings" feel free to comment below.
Also Read: Top Ten Tips for Keeping Your Workspace Tidy